TRAVELING WITH HUNTING DOGS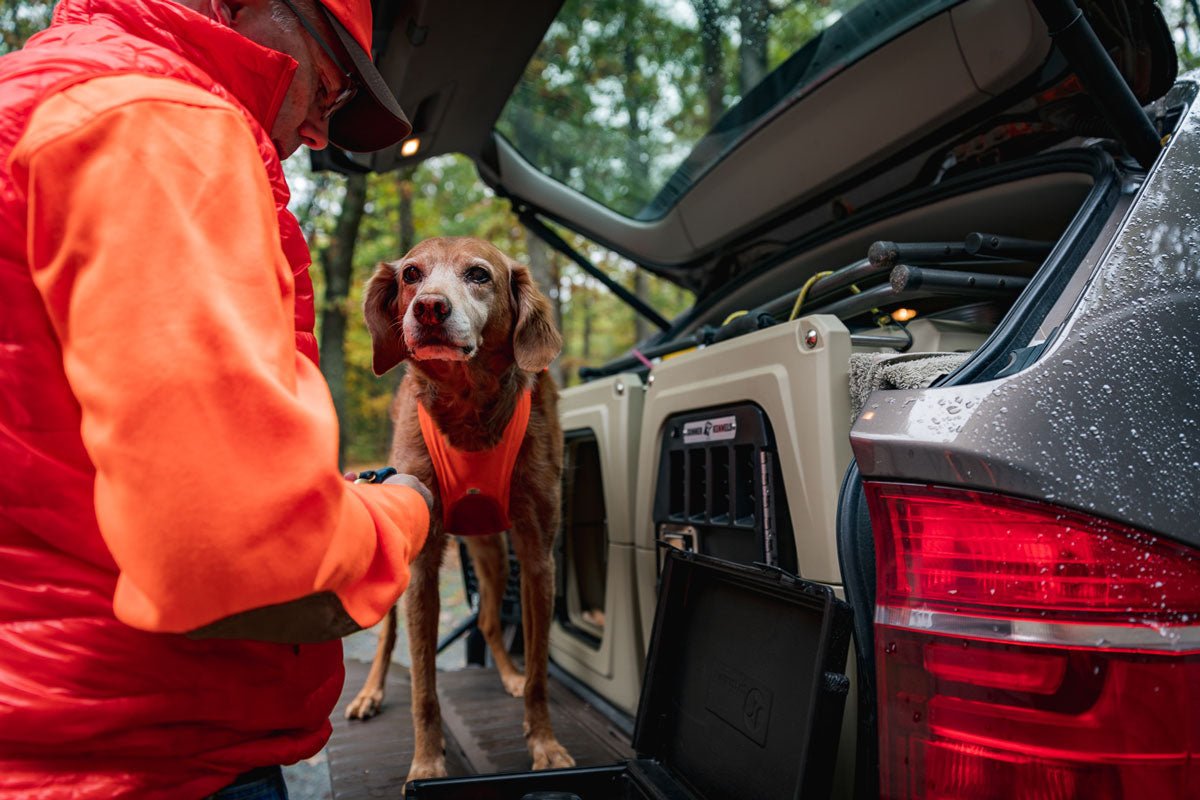 For many bird hunters (including myself), one of the best things to do in the fall is put the dog in the truck and head out of town or out of state on a hunting trip. Most bird hunters enjoy taking their dogs to far off places they haven't been to in search of birds. The only problem is a great trip can turn into a nightmare if your dog gets sick while it is away from home.

Almost every bird hunter I know at one time or another has had a dog get sick while on the road. A few years ago while bird hunting in Wisconsin, both of my dogs got sick and almost died. We never really figured out what made them sick, but they had diarrhea for three or four days! A nearby vet saved my dog's lives. If you are planning a hunting trip and are bringing hunting dogs along, below are a few tips to reduce the chances of having a problem with your dogs while on the road.

KEEP YOUR DOG HYDRATED
One of the easiest things you can do to help keep your dogs healthy and strong while traveling is making sure they are always hydrated. Don't rely on finding water while in the woods or at a rest area. Pack your own water. "I always bring my own water with me so I know they are always getting fresh, clean water," said Brent Pike, owner of Pyke Gear.

PACK WATER
Many hunters bring a little bit of water with them when they are hunting, but often it isn't enough. Dogs often run many miles when hunting and need to be rehydrated often. Packing water when traveling and hiking in the woods is crucial. In 2003, roughly 100 dogs died on opening weekend of pheasant season in South Dakota. Most of the dogs died from heat-related problems. One way to make sure your dog is staying hydrated is to use a product called Hydrate & Recover from K9Athlete.
Mix the liver-flavored powder with water. Some dogs don't like to drink; the liver flavor greatly increases the odds of a dog drinking their water. The product has electrolytes and contains l-glutamine for sustained mental energy. It delivers L-glutathione to support proper cellular respiration. The product was developed to encourage increased fluid intake to prevent dehydration and protect kidneys. In addition, the product contains LEUCINE which is a branch chain amino acid. Keeping a dog hydrated is a must and is often overlooked by hunters.

AVOID THE REST AREA
One thing that Brent Pike avoids when hunting is rest areas. "Everyone with a dog stops at rest areas. As a result, disease, fleas and worms are common place. Instead, stop in the woods or at a dead end road when you and your dog need to stop. Avoid rest areas." Pike advised.

ENDOSORB CAN SAVE THE DAY
Diarrhea is something many dogs have when traveling. In some cases it is a minor inconvenience, but in some cases it can be a serious problem. When Pike travels, he always has some Endosorb (Kaopectate for dogs) from his vet. "The moment my dogs start to show signs of a loose stool, I give them this. It really can be a life saver." Pike added.
CONTACT A LOCAL VET AHEAD OF TIME
When traveling, make sure you have contact info for a local veterinarian and an emergency veterinarian. "I always do research before leaving home and make sure I know exactly where a vet or two are located. If I have a problem with a dog, I am prepared," Pike noted. 

PACK A BAG
Bird hunters who travel a lot each fall typically have a dog bag with medicine, flea and tick spray, bandages, extra dog vests and a variety of other things that may come in handy if a dog is injured or has a problem. Every hunter should have a first aid kit of some type for their dog.

The goal when hunting with a dog is to have lots of fun, but things can quickly go wrong. Think ahead and be prepared for the worst, so if something bad happens it is a bump in the road, not the end of the trail for Fido.